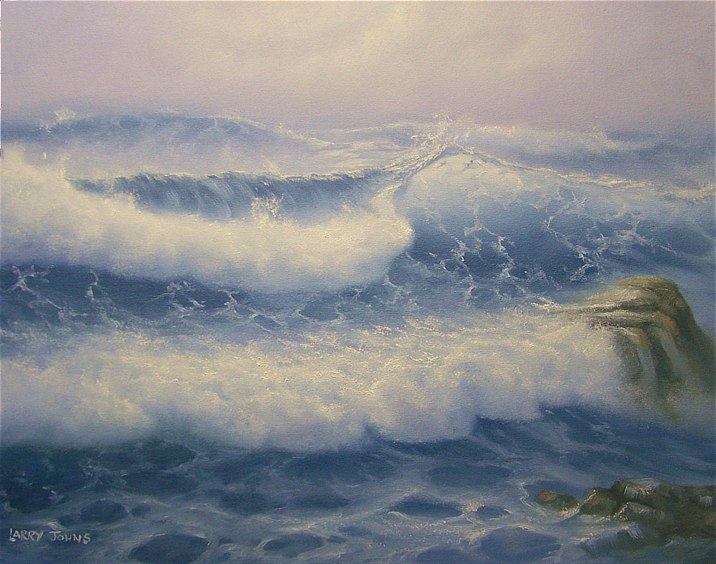 1: A wave study
Sometimes, in the absence of a commission, I like to grab a wave out of my head and sketch it. Occasionally the sketch turns into a viable picture. (More often, though, it doesn't!)
---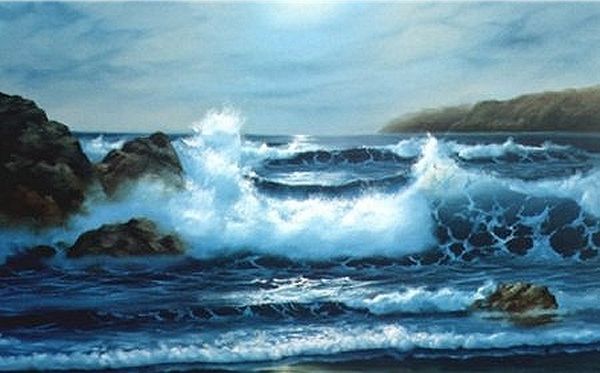 2: St.Agnes Head
This is a very popular theme, but only - strangely - on 12"x16" canvasses. To accommodate this phenomenon I have been known to paint "cliff-on-the-left" and "cliff-on-the-right" sets of similar scenes, and they have always sold as a pair! Maybe they look okay on either side of something or other.
---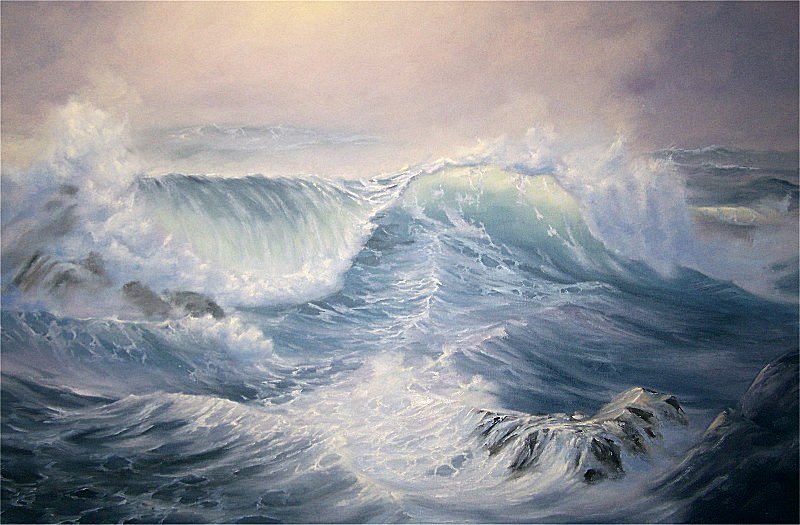 3: Another wave study
Another sketch that turned out okay.
---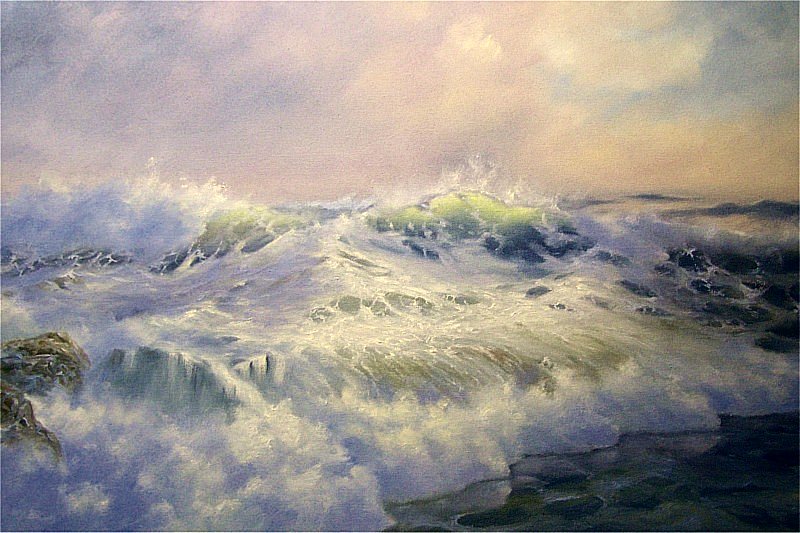 4: Over a hidden rock
Confused surf is great to paint. The hidden power, of course, is generated by rocks you can't see, which adds a certain mystery to the scene. If this canvas had not been sold I would have liked to hang it on my own wall.
---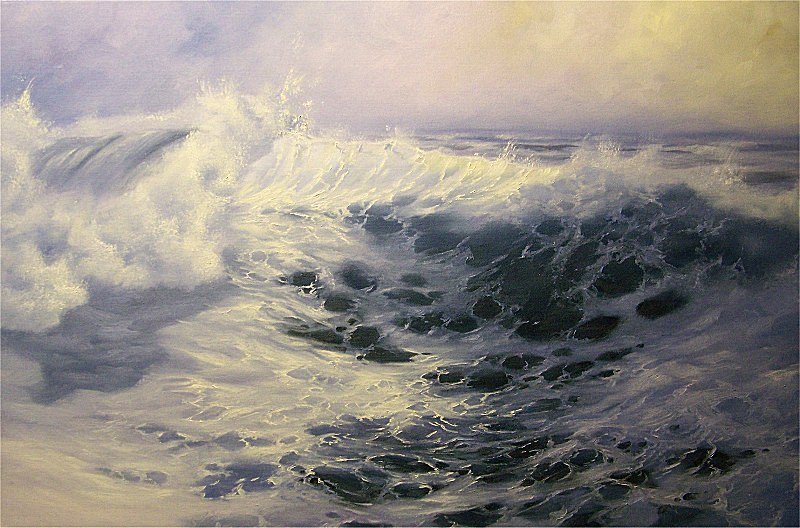 5: E.John...
This is not my wave, it was inspired by my hero, E.John Robinson, an American artist who once visited Cornwall. I tried to make this a "copy", and didn't even come close!
---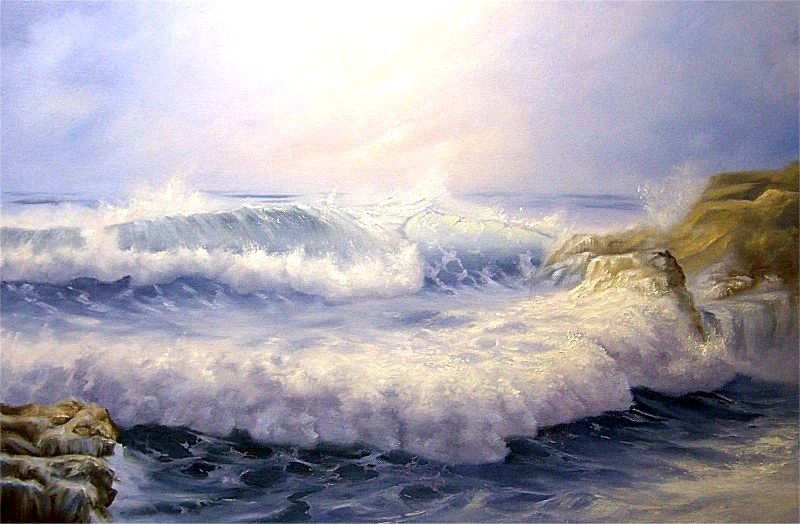 6: "Sally Bottoms"
In some ways similar to the first picture above, this one is view from the beach at "Sally Bottoms". The name has nothing at all to do with anything anatomical. It's a mining term, meaning "lowest level". Naturally enough, when we were kids we always called it "Sally's Bottom". Kids! There is an addit (mine outflow) on this beach. Great fun to explore if you're careful.
---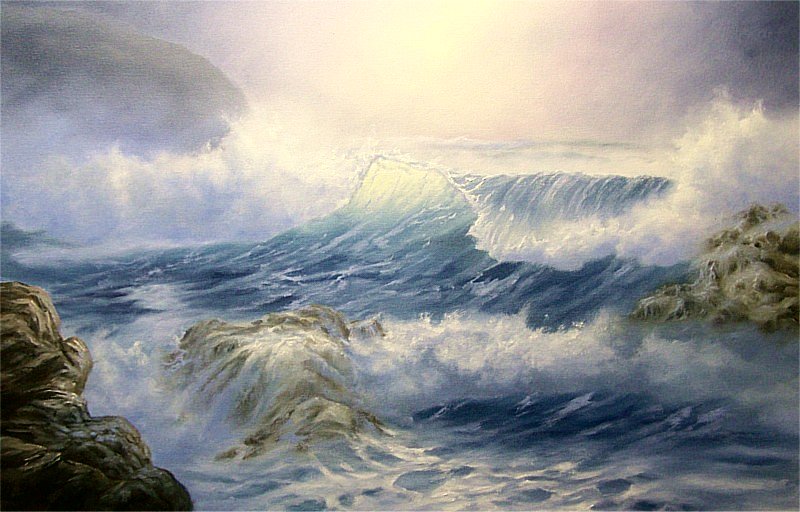 7: Outside "Seals Cove"
As the title implies, there are generally seals to be seen in this area. A lot of them. One day I'll try a canvas with them in it. But probably not. I'm not desperately good at painting things that actually live and breath.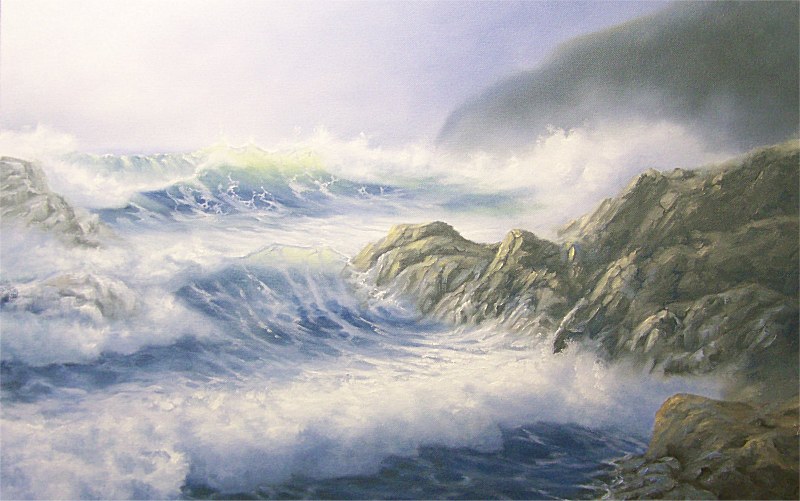 8: North of Porthtowan
Porthtowan is where I spent my childhood years. It used to be a quaint, picturesque place...it's a tourist trap now! Kiss-me-quick hats, pop music and ugly blocks of flats to cram them in.
---
9: Strange light...
This scene had an unexplainably strange light to it. I tried to get it, but don't think I did.
---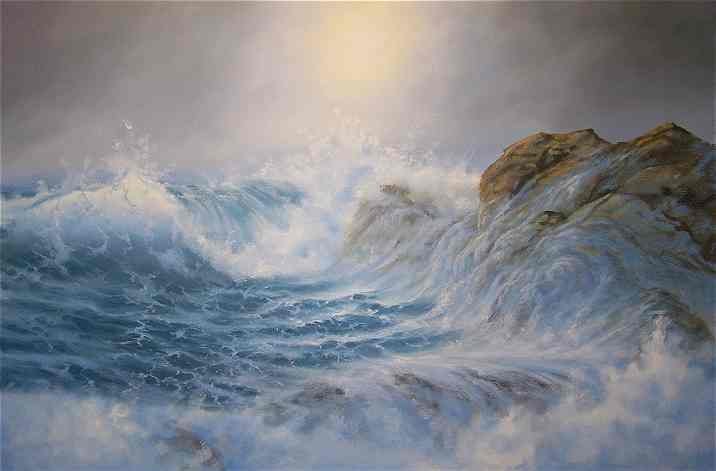 10: "The Devils's Tooth"
I should call this one "After a big one"...a big wave, I mean. The rock is locally known as "The Devil's Tooth". I don't paint here, I take photographs. The rock upon which I stand is always wet from the breakers, ergo, you don't stand there very long! It's a different story at low water, of course, but the object is somewhat defeated at those times.
---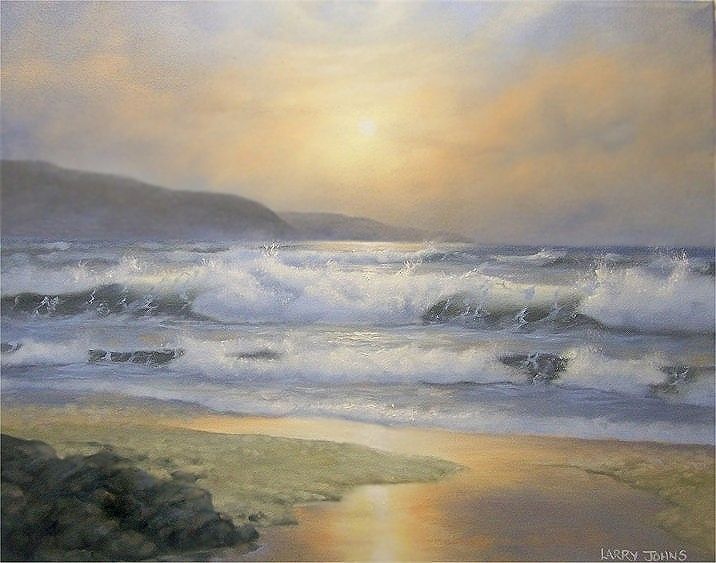 11: "Tobban" beach
West from Porthtowan, this one. Not too many trippers get to this beach, even in the high season. Which makes it a nice place to spend a day, provided you've brought a picnic with you.
---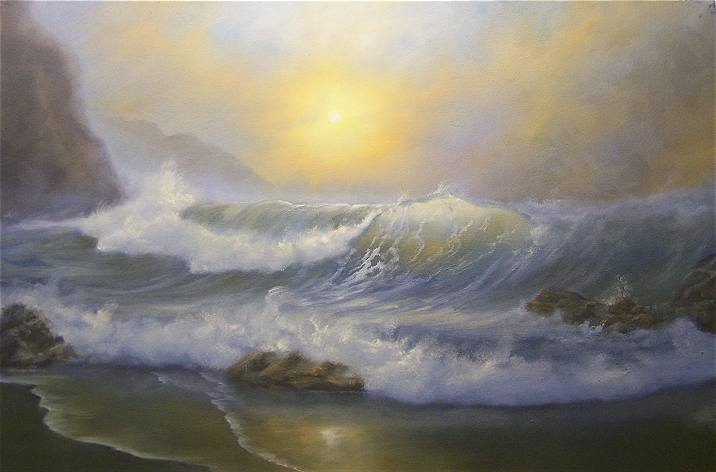 12: West from "Seal's Cove"
I took liberties with the distant cliffs for this one.
---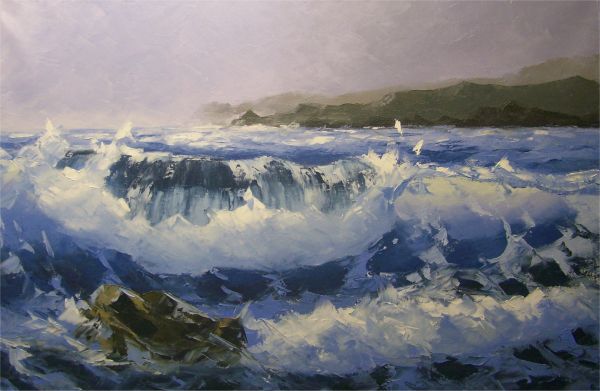 13: A palette knife study"
This was one of my ventures into using a palette knife exclusively.
---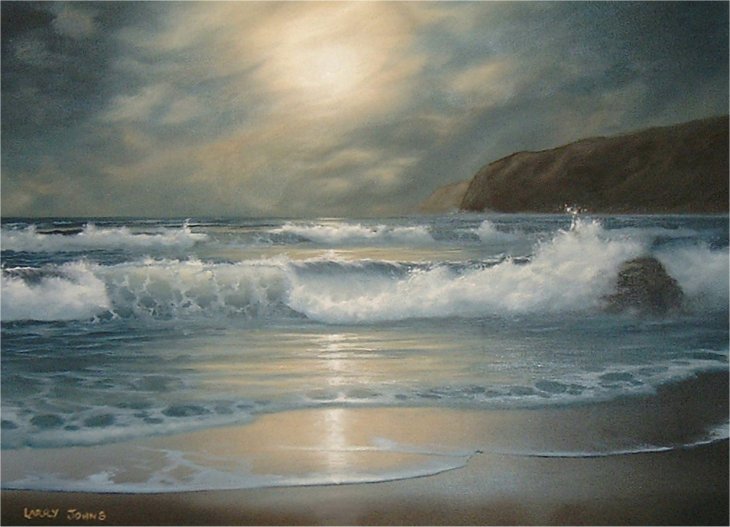 14: A "Happy Accident"
There is a strange tale attached to this one. Look closely and you should see a higher cliff in the far distance. I painted the final version of this when I was strapped for cash, unable to afford a fresh canvas. So I painted the middle distance out of a reject - I thought! - and slapped on another scene. The effect is actually quite pleasing. A happy accident, I think it's called
---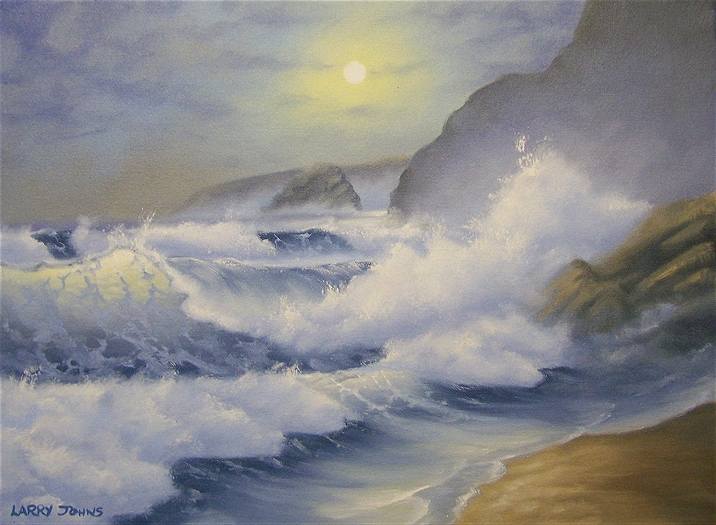 15: "Tobban Rock"
This was before the cliff collapsed and filled the gap.
---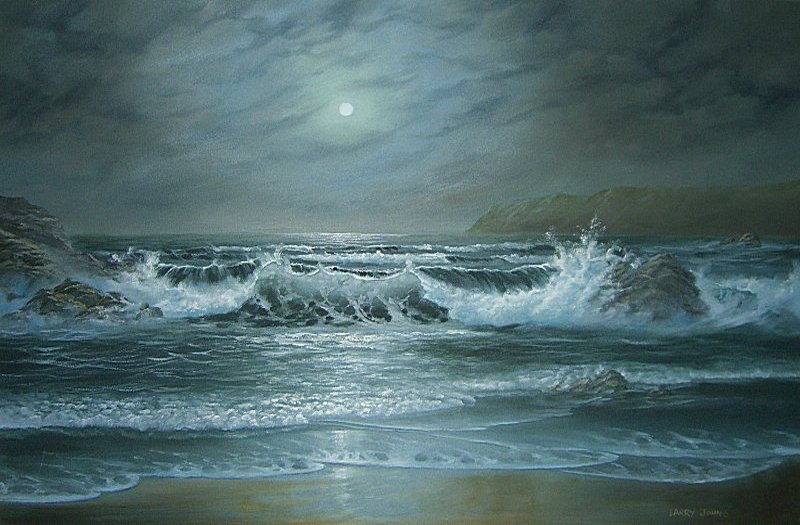 16: Not sure about this one
The nice couple who bought this one asked if it was a moonlit scene, or a misty daylight scene. I couldn't tell them.
---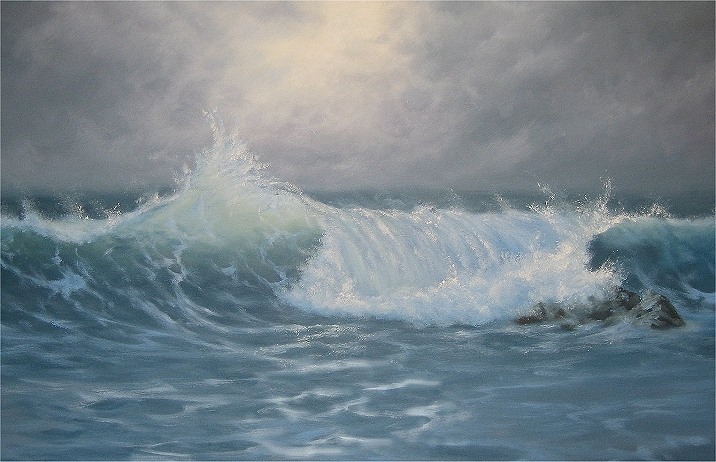 17: Just a wave study
This was just a trial, but it was bought anyway.
---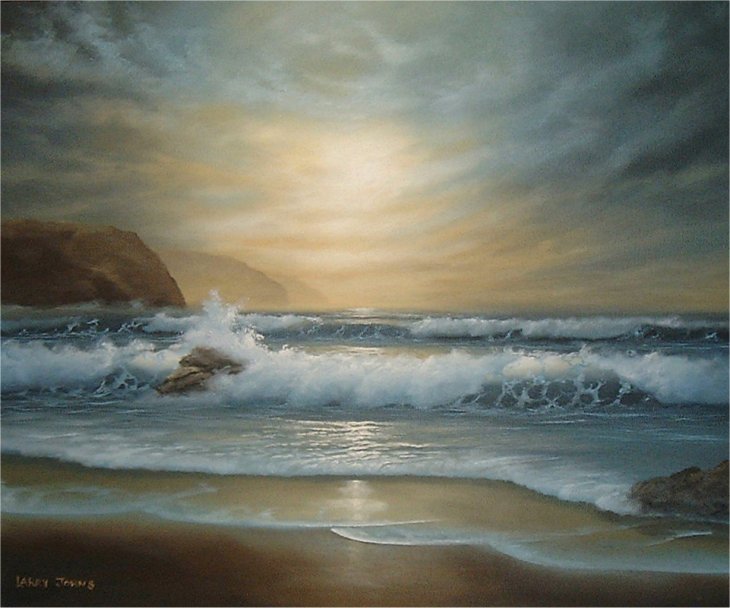 18: Nowhere in particular
I can't remember why or when I painted this one.
---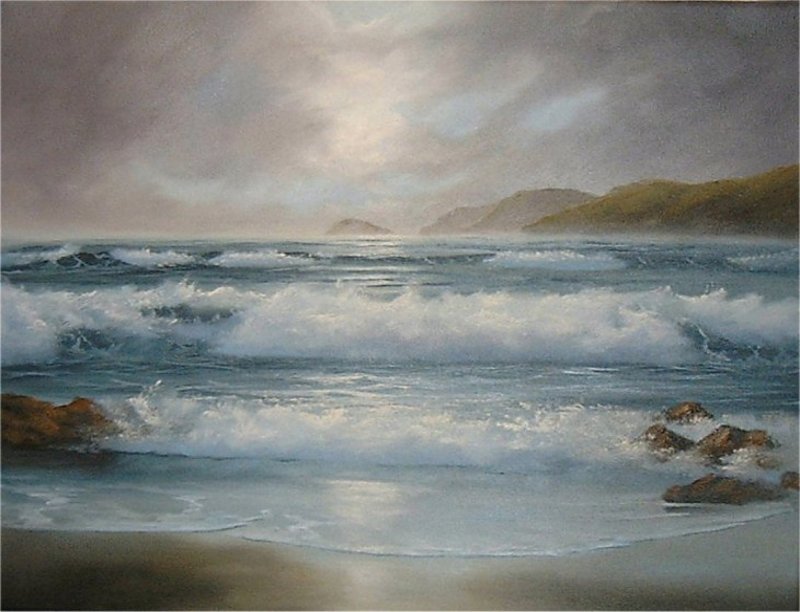 19: East from Perranporth
This beach has some very nice features; odd-shaped rocks and headlands. Great for inspiration. The island in the distance is not actually an island; it's just a rock. It's off "Penhale Head" and there's a nudist beach (reportedly!) up that way somewhere!
---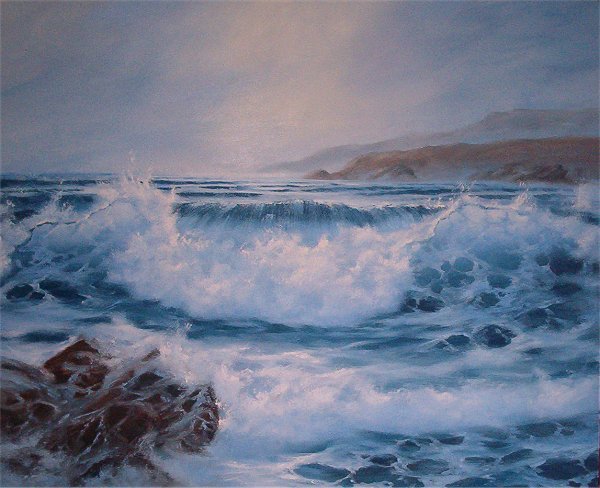 20: East of "North Cliffs"
This is the same scene I used for the palette knife study above!
---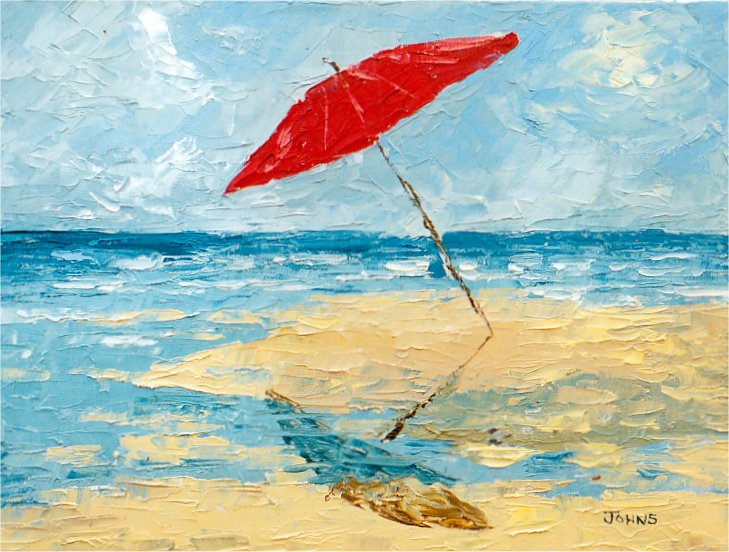 21: First result of spare paint on the palette"
I suppose this could loosely be called a seascape. It was an experiment of a kind. I used a pallette knife on a spare canvas, utilising whatever paint I had left on my pallette. It took me less than ten minutes. Yes, I hear you! But I actually quite liked the result
---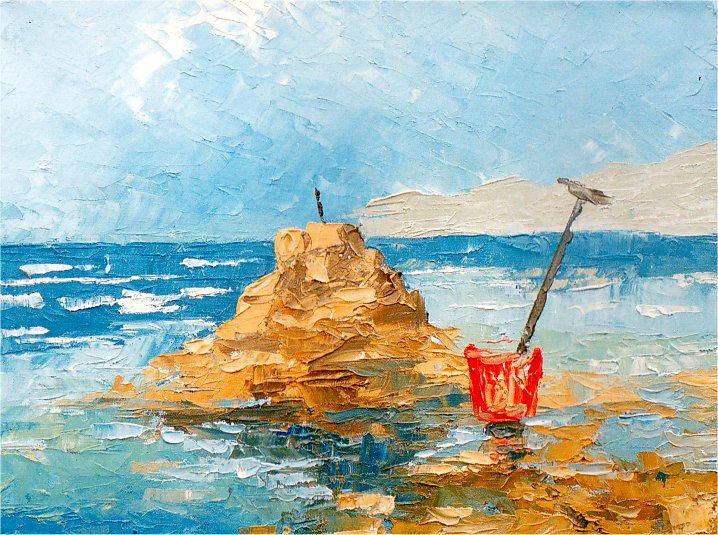 22: Second result of spare paint on the palette"
Ditto!
---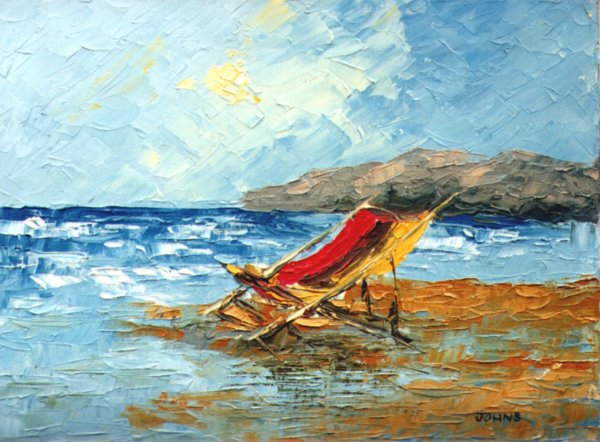 23: Third result of spare paint on the palette"
As above.
---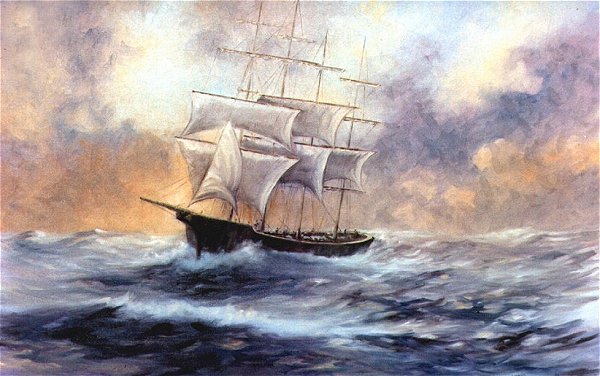 24: What to say about this one?
I painted this back when I thought I could paint ships at sea!
---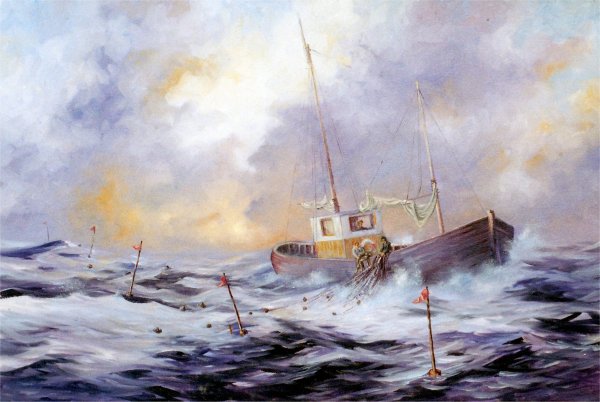 23: A trawler
And I painted this one in more or less the same frame of mind!