C

an't see this page being used much, but I'm told - by cleverer people than me - that it should be here...So, for what it's worth, here it is...
SALES: If I still have it, it's for sale!
COMMISSIONS:You can commission me to do several things (I hear a suggestion coming up that I will totally ignore!) You can either...
1: Choose a canvas from the galleries and I will reproduce it for you.
2: Choose a scene of your own, and maybe send me a photograph. (See below) Or...
3: Simply ask me to paint a picture for you. All these suggestions assume that you are currently suffering an attack of the head-staggers and have temporarily lost your ability to think straight.
In case you can't quite visualise the various canvas sizes involved, the pics below show them in relation to myself...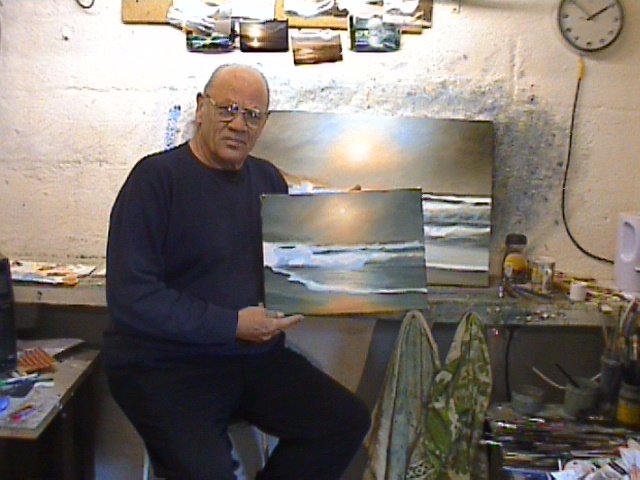 Not the most popular size, but good for effect. You can have several of these on your wall and not appear cluttered or overwhelmed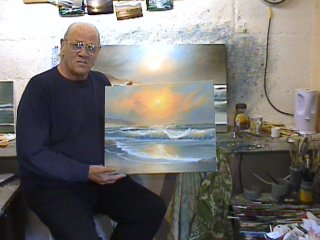 This is generally considered to be a "normal" size for a painting. Since a lot of my work is sold here in Cornwall, and people come to Cornwall on holiday, they might see a problem in carrying a larger canvas back home with them. (And nothing wrong with that!)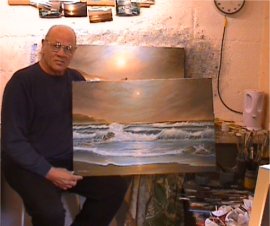 And yet this size seems to be the most popular! From a painter's point of view, this is just as well; because it can take as long to complete a small canvas as it does a large one. So a pro-rata price (brush-stroke for brush-stroke) appears vastly unfair. Right?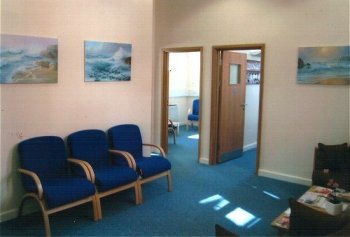 T

hese 20x30s were bought by a surgery in Marlowe, Bucks. It might give you an idea of how a 20x30 canvas looks on a wall (I have no idea why these were not framed!). Well, I actually do...down here in Cornwall it can cost something close to 100 pounds for a 20x30 frame! Who knows what they might cost up in deepest rural - and highly expensive! - England?!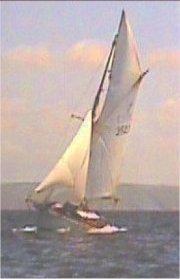 This was a commission. Customer's photo on the left (Above, if you are on a mobile!), my painting on the right (Below, ditto)